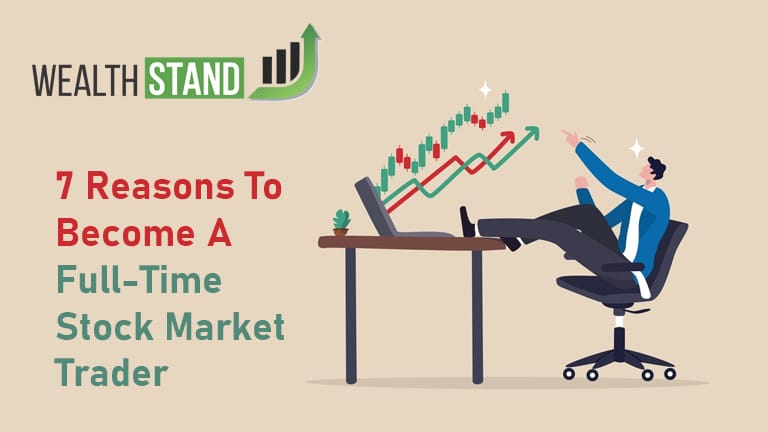 The craze of the Stock Market has emerged since Covid happened. Before the Corona period, very few people were interested in trading & investing. But today, more & more people are coming forward to learn stock trading and are investing their money for a better future.
Indeed, Stock Trading is the riskiest and most profitable business of today's era, and individuals follow different types of trading. Some are following-day trading (aka Intraday), some like swing or long-term trading, while some are into investing only.
However, it has been observed that new people invest in particular stocks for a specific period and sell them for profit.
However this practice is not bad, but if you are planning to become A Full-Time Stock Market Trader, you have to understand a few points.
The share market has high risk but great earning potential. Without the proper knowledge, you end up losing money or going bankrupt. That's why you must find trusted sources to teach you both trading & investing.
In such cases, joining the best telegram channel for stock market updates is recommended for learning.
The best telegram channel for share market offers valuable information related to the market. Individuals can collect that data & the information provided by them and apply it to their investment portfolio.
Some share market telegram groups also specify trending stocks to invest in and make profits. So if you are confused about choosing Stock Market Trading as a full-time career, check out these seven reasons.
7 Reasons to Become a Full-Time Stock Market Trader
A Full-Time Stock Market Trader lives a most balanced and exciting life than others. They have freedom of time and endless income opportunities every day.
If you are interested in jumping into this business, check out the below points.
1. Financial Freedom
A trader may not have a specific income at the end of a month as a salaried person has. Still, they have the freedom to determine their profit and loss.
There is no limit on traders' income. A trader can book their profit on a 1% return to a 100% return. It all depends on the trader's skill, knowledge, and psychology.
Once you enter this business, you'll get the same opportunity as other traders.
2. Freedom of Time
This is the most attractive benefit a trader gets in their journey.
A salaried person follows a 9-5 job routine their whole life. On the other hand, traders can decide their work time according to their interests.
However, if you become an Intraday trader, you can enjoy the show anywhere between 9:15 AM to 3:30 PM. This is when people either lose their yearly salary or make more than a lakh in a day.
Besides intraday, investments can be made anytime and anywhere. Open your laptop or smartphone, and you are ready to start trading or investing. Traders can specify their working hours and run the business from their comfort zone.
3. Continues Learning
Stock Market Trading is not a job; this is business. Besides, the process takes time and continues learning to stay profitable. Traders face new challenges in their daily life.
Indeed, the ups and downs are part of the share market. So excitement and challenges always flow in this business.
That's why joining the best telegram channel for the stock market is recommended. These groups help in learning the trading psychology and provide the correct recommendations of the stock to pick for short & long-term investment.
Besides this, the best share market telegram groups analyze the stock and help their followers to do the same before trading or investing. This way, they lower the risk that their follower or subscribers stay in the stock market industry.
4. Huge Earning Opportunity
Rakesh Jhunjhunwala (big bull of the Indian stock market), Radhakrishnan Damani, and Mukul Agarwal are the top Indian traders. They make crores from the share market within a short period.
Did you know the share market is one of those income sources that gives enormous inflation-beating returns?
Yes, the proper knowledge, skill, and strategies can give you maximum return within a short period.
5. Low Investment requirement
In 1986 Rakesh Jhunjhunwala started investing with an amount of Rs.5000. Jhunjhunwala's small investment in 5000 Tata shares quickly became triple within three years.
So the potential is enormous, and you need to enter with minimal investment. These Days anyone can start trading for a minimum of Rs. 1000-10,000 capital.
6. Balanced Life
Studies show that traders live a more balanced life than others. While working in any trading firm, they work with a team consisting of other expert traders, investors, and financial professionals.
This working environment improves their psychology which is essential in stock market trading. These activities encourage them to follow a specific routine and start developing the habit of analyzing everything before trading, investing, or recommending.
7. Be Your Own Boss
At some point in life, everyone wants to be their own boss. They don't want any second person to direct them to do & leave such and such work.
Trading allows them to specify their work time, income, and routine. They don't need to report anyone for daily tasks.
So, learn from the best telegram channel for the share market, start applying the concepts, join any firm or do your own job, and practically implement and make a jaw-draping portfolio from stock trading.
We hope we've explained the top reasons to become a full-time stock market trader.
Key Points:
Stock Market Trading requires deep market knowledge and strategy.
The business has a risk of losing money.
The earning potential is vast only if you have the right strategy and robust market analysis.
Remember, stock market trading is a game of knowledge and strategy. Luck and guess don't give you profit here.
Join the best telegram channel for the share market to collect daily market updates, news, stock recommendations, and suitable trading and investing strategies.
Now below, let us talk about one of the most popular platforms or websites that recommend the best stock market telegram channels for beginner, intermediate, and advanced level traders or stock investors.
How Wealth Stand Can Help You Become a Pro Stock Market Trader
Wealth stand is an educational website for investors and traders. They suggest some trusted, authentic, and popular stock market telegram channels.
Let us understand how Wealth stand can help you become a pro in the stock market industry.
Free Learnings
Wealth stand is known for free stock market learning group suggestions. They have a team of industry experts and financial professionals who work effortlessly to improve the financial knowledge of the Indian people.
They have a dedicated "Blog" section, where they regularly publish Stock market updates, the know-how of the Indian stock market, guides on picking up the right stock to trade or invest in, and many other similar types of content.
Similarly, they provide all the premium knowledge absolutely free on their YouTube channel. Users can get free access to their valuable knowledge.
Trust and authenticity
Wealth stand carries a team of researchers with years of industry experience. Thus they are known for suggesting some of the trusted and authentic telegram channels for the stock market.
Wealth stand never recommends groups without backtesting and market analysis.
Commitment and Determination
Commitment and determination are the two vital factors on their website.
Wealth stands have never disappointed their readers since they started. On their website, plenty of telegram groups, YouTube channels, and other social platforms are available for guiding people in stock trading and investing.
Users can read their suggestions, connect with them via email, and request a call back to ask any doubt about the stock market.
Conclusion
So, this blog covers the top 7 Reasons To Become A Full-Time Stock Market Trader. Remember, this business may not have time or earning limitations; still, trading is risky for many people. Always take expert consultation and have proper knowledge before investing in the stock market.
For more information about Wealth stand, you must visit www.wealthstand.com, where you can check the expert-picked telegram channels for the share market. Join these groups, grab valuable knowledge, and make a full-time career in stock trading.