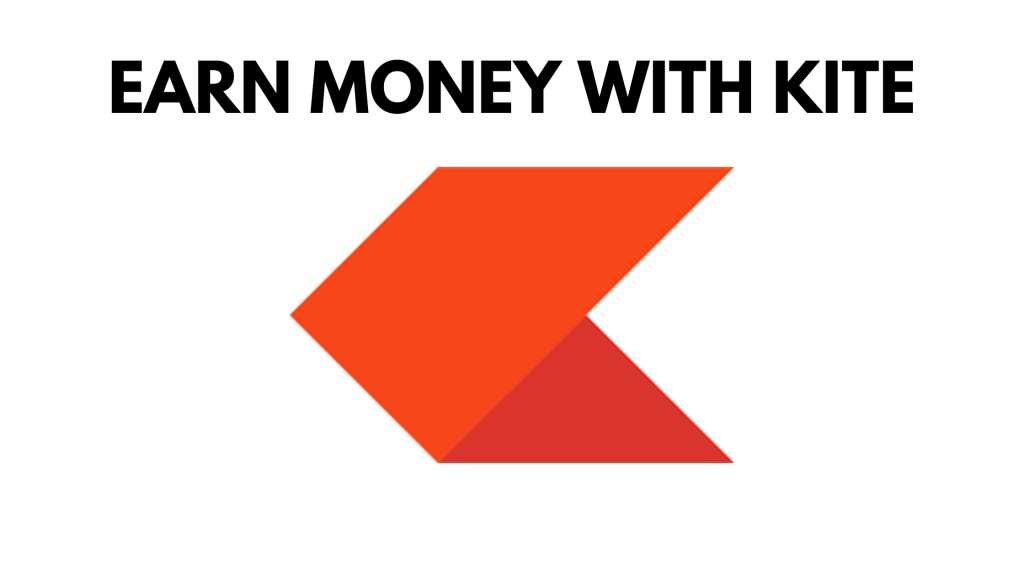 How to earn money fast in India: In this interesting post I will show you how to earn money fast in India with Zerodha Kite share trading app, which is one of the most popular and vital share exchange platform. They have both Kite App and Kite Website.
Share market now a days, one of the most popular topics in India and it is the only way to earn money fast within India without investing a lot of money. However, in this post I'll be sharing with you some of the tips and tricks which I personally follow.
Also, please note that I am not an financial advisor who can accurately predict the market. There are very few who can actually predict the share market correctly.
What I will do is, I will share the trick which I generally follow to increase my overall earning. So, without doing further ado, let's dive into it.
How to Earn Money Fast in India with Zerodha Kite
Kite web platform looks like this –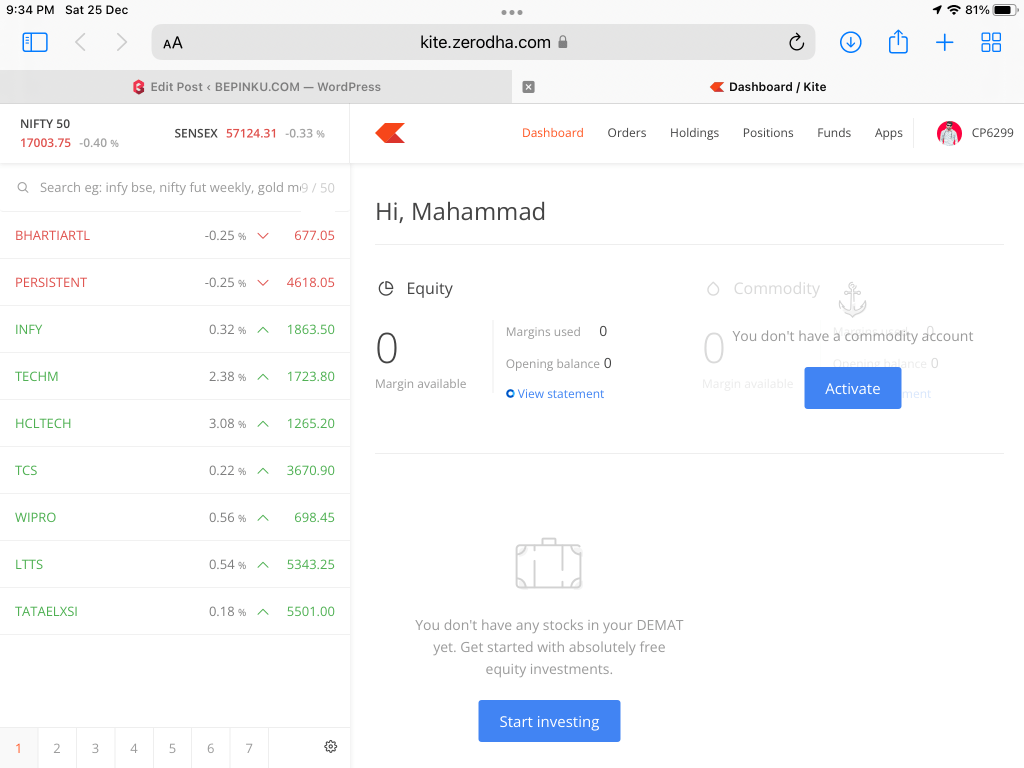 Zerodha Kite Dashboard
How to Earn Money Fast in India with Zerodha Kite
When I say about earning money fast then I always tell one thing and that is "Observe and React". For an example, now the situation is very tough due to Omicron (a variant of Covid-19) and the market is currently is very down. This is time time where you can react and buy some good share which can give you good money in a very short span of time.
Because the situation will not remain the same as it is now. It's the correct time to let's get started into trading with one of the most famous discount broker in India which is currently Zerodha. And it's platform name is Kite.
Start Earning Money with Zerodha Kite Platform and Earn Money Fast in India:
Opening an account in Zerodha through an online process is very easy and fast. This process takes a maximum of 15 to 20 minutes to complete.
Watch Zerodha Account Opening Video:
Step-By-Step Account Opening At Zerodha
Visit

Zerodha Portal by clicking this link.

Enter your mobile number

Validate the mobile number with OTP

(One Time Password)

Enter Name and Email

ID.

Enter PAN number and date of birth

(DOB)

Select segments

such as Equities, Commodity etc.

Pay account opening charges

with GST.

Continue with Digilocker

to give permission to access to your Aadhaar details.

Allow Digilocker access to Zerodha

Fill your personal details

such as Name, Email, Phone Number, Residential Address etc.

Fill bank details

Verify yourself on webcam for IPV (in-person verification)

Upload your documents

Complete A/C opening process with Aadhar E-Sign OTP.
Let's Talk about the Zerodha as a Company
Zerodha was innovated in 2010 by Nithin Kamath and Nikhil Kamath, the two brothers. The name Zerodha is a carryall of words Zero and Rodha (Sanskrit word for hedge).
In June 2020, Zerodha attained a tone- assessed valuation of over$ 1 billion grounded on ESOP buyback at further than four times the book value of ₹ 700 per share.
With an active customer base of 5 million satisfied clients, Zerodha is the largest retail stockbroker in India, contributing further than 15 of diurnal retail volumes across all Indian stock exchanges. (Inputs from Wikipedia)
Zerodha Product and Services: Kite | Console | Coin | Varsity
Zerodha Kite: Actually the kite is Zerodha's super-fast flagship trading platform with streaming market data, advanced charts, an elegant UI, and more. You can use Kite seamlessly on your Android as well as iOS devices.
Zerodha Console: Zerodha's console is the central dashboard for your personal Zerodha account. Watch insights into your trades and investments (including your mutual funds investments) with in-depth reports and amazing visualisations with sleek user interface.
Zerodha Coin:. Coin is your one-stop platform for buying Mutual Funds directly. You can sell and withdraw fund to your Zerodha wallet. No comission. Simple and sleek user interface with minimal design. Watch your investments and returns on the go. Mutual fund is basically mixed of multiple company shares. It is also one of the simplest way to earn money fast in India.
Zerodha Varsity: Varsity is an outstanding collection of stock market and financial lessons created by Karthik Rangappa at Zerodha. It is openly accessible to everyone and is one of the largest financial education resources ever on the Internet. So, if you are a beginner and want to earn money fast in India then don't forget to check this out. Varsity Android and iOS app is also there which will help you learn various things. Watch it daily to learn more about investments and returns.
Now the biggest part: How to earn money fast in India?
So, basically Zerodha is an Indian company and I personally use it and love it because of its easy to use and ultra fast technology. That's I am recommending all of you to join today by signing up here.
How to Earn Money Fast in India with Zerodha Kite and Coin
Complete your account opening process. For help you can call their customer care number – +91-80-4718-1888 (and ask about your problem you are facing).
After completing your account opening process just login to your account and start investing on good stocks.
Picking stocks are an easy process. This is not a rocket science.
But before add some money to your Kite wallet through Net Banking, Debit Card or Credit Card or simply with UPI (Google Pay, PhonePe).
Choose good companies which is old and prestigious such as TCS, Infosys, Mahindra etc. Choose technology shares because they are the future.
Buy some quantities and hold until they are not giving good returns. Market will rise there's no doubt.
Don't sell in fear because market is down.
To book profit sell the quantities of shares you bought before. That's it.
For more information, visit Varsity app or you can simply google it.
Zerodha Charges: Brokerage Charges in Zerodha | Account Opening Charges in Zerodha
Rs.0 – Free Equity Delivery
Rs.20 – Intraday and F&O Trades
Rs.0 – Free Direct Mutual Fund Transactions
Zerodha Pricing – Equity Charges Table:
Zerodha charges
Equity delivery
Equity intraday
Equity futures
Equity options
Brokerage
Zero Brokerage
0.03% or Rs. 20/executed order whichever is lower
0.03% or Rs. 20/executed order whichever is lower
Flat Rs. 20 per executed order
STT/CTT
0.1% on buy & sell
0.025% on the sell side
0.01% on sell side
0.05% on sell side (on premium)
Transaction charges
NSE: 0.00345%
BSE: 0.00345%
NSE: 0.00345%
BSE: 0.00345%
NSE: 0.002%
NSE: 0.053% (on premium)
GST
18% on (brokerage + transaction charges)
18% on (brokerage + transaction charges)
18% on (brokerage + transaction charges)
18% on (brokerage + transaction charges)
SEBI charges
₹10 / crore
₹10 / crore
₹10 / crore
₹10 / crore
Stamp charges
0.015% or ₹1500 / crore on buy side
0.003% or ₹300 / crore on buy side
0.003% or ₹300 / crore on buy side
0.003% or ₹300 / crore on buy side
Zerodha Pricing -Currency Charges Table:
Zerodha charges
Currency futures
Currency options
Brokerage
0.03% or Rs. 20/executed order whichever is lower
0.03% or Rs. 20/executed order whichever is lower
STT/CTT
No STT
No STT
Transaction charges
NSE:
Exchange txn charge: 0.0009%
BSE:
Exchange txn charge: 0.00022%
NSE:
Exchange txn charge: 0.035%
BSE:
Exchange txn charge: 0.001%
GST
18% on (brokerage + transaction charges)
18% on (brokerage + transaction charges)
SEBI charges
₹10 / crore
₹10 / crore
Stamp charges
0.0001% or ₹10 / crore on buy side
0.0001% or ₹10 / crore on buy side
Zerodha Pricing – Commodity Charges Table:
Zerodha charges
Commodity futures
Commodity options
Brokerage
0.03% or Rs. 20/executed order whichever is lower
0.03% or Rs. 20/executed order whichever is lower
STT/CTT
0.01% on sell side (Non-Agri)
0.05% on sell side
Transaction charges
Group A
Exchange txn charge: 0.0026%
Group B:
Exchange txn charge:
CASTORSEED – 0.0005%
KAPAS – 0.0026%
PEPPER – 0.00005%
RBDPMOLEIN – 0.001%
Exchange txn charge: 0.05%
GST
18% on (brokerage + transaction charges)
18% on (brokerage + transaction charges)
SEBI charges
Agri:
₹1 / crore
Non-agri:
₹10 / crore
₹10 / crore
Stamp charges
0.002% or ₹200 / crore on buy side
0.003% or ₹300 / crore on buy side