Starting an online business is really a tough job. Isn't it? Because you have to pick the proper business from hundreds of online business ideas, select the right category, choose the suitable name for your online business, select the right platform and lastly you have you learn the best marketing strategy.

So don't make blunder without understanding anything. I already suffered from this blur situation. That's why I'm writing this blog post.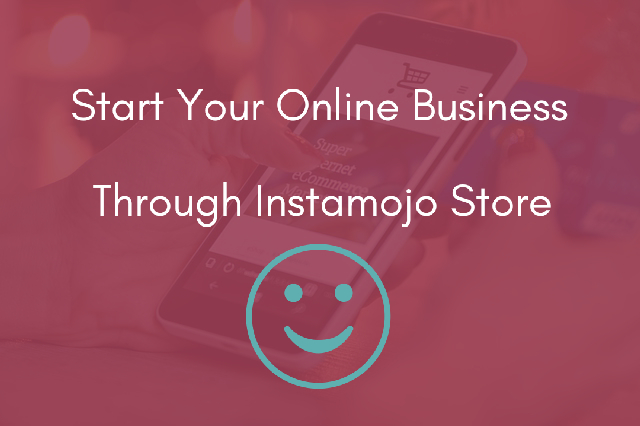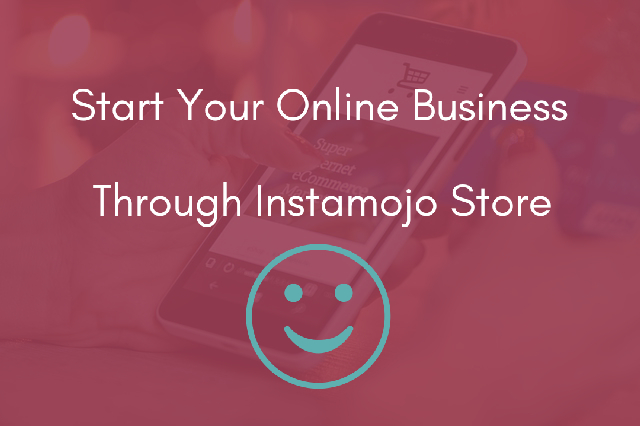 In this post I will help you to bloom your own online business with Instamojo store.
I have already written many blog posts which are related to Instamojo. You can check these posts:

Okay. Hope you understood everything about Instamojo.

Instamojo has a mobile optimised site. So you can start your online business from your smart phone. You don't need to carry heavy weight laptop. Start, run and grow your online business on the go.

Let's start our discussion about Instamojo Store in detail:

The sites like Amazon, Flipkart and Snapdeal are making millions by selling physical and digital goods.

All you need to do is sign up on Instamojo, upload your KYC documents, verify it (KYC documents aren't required for trial account), setup your payout by entering your name, account number, IFSC code, branch name etc. After that your online store will be create automatically.
Instamojo online store

Now you can add products to your online store easily. Look at below pictures to understand it better:


What you can sell in your Instamojo online store?

You can sell both physical and digital products. If you want to sell digital goods then you don't need to ship items like physical goods. Just write title, description, price, insert a picture and upload your digital good (such as PDF eBooks). It is that simple and the delivery is taken care of Instamojo.

Let me give you some ideas about physical goods:

As I already mentioned above that you can sell everything on Instamojo. So you can sell all the items that are listed below –

1. ebooks
2. CDs, DVDs
3. Phone, Tablet, Laptop, Cameras
4. Men's wear, woman's wear, kid's wear
5. Sports material
6. Beauty products
7. Handcrafted products etc.

Adding products in your Instamojo online store

Click on 'Add Products' and start writing about your product like title, description, its price, upload a photo.

Now when you are adding products in your online store, try to use search engine optimization (SEO). All of your product page can be SEO optimised.

How to do SEO for your online store?

At Instamojo you can do search engine optimization easily to get organic traffic. Okay. I'm giving you a clear explanation –
Step 1
SEO Options
Step 2
SEO Options

After adding 100+ products on your Instamojo store, it's time to start a killer marketing technique. If you don't know what you have to do then I'm here to help you but before that complete all the steps that are mentioned below:

• Visit 'Settings' from your Instamojo account, now click on 'profile settings' and upload your store's logo. Create a logo yourself or make a proffesional logo from sites like Fiverr or Upwork.

• Write some words about your online store and update your profile.

• Create a Facebook page for your online store, request your friends to like this page.

• Create a Twitter account for your store and try to increase your followers.

• Similarly you can create a Google+ page.

Do you know why I'm asking you to create social media pages for your store? Because it will boost your search engine presence and you will get more traffic to your online store.

I have done all these things! Now what's next?

Now it's time to kick-start the real marketing by using Facebook ads. As you know that Facebook offers very cheap targeted ads for your online business. You can boost sales through Facebook ads.

• Visit your Facebook page that you have already created.

• Create a 'Shop Now' button by using your online store's URL (i.e – instamojo.com/ridmdsakil)

• You can showcase your products on your Facebook page. This is a great concept because showcasing products will make it easy for the people to browse and buy. If you are not seeing any option to showcase your products then change your template by clicking on 'edit page' option. I recommend you to choose 'Shopping' template. Use your online store's URL in the description of your product.
Showcase your products

• Publish Facebook posts about your products along with product URLs. You can URL shorteners like bitly to track every click.

• Click on 'Promote' button. Now start displaying Facebook ads to your buyers. To do that click on 'Boost your post' or 'Get more sales'.

• Target your audience by choosing region, interests, age, gender etc.

• Select your daily budget, you control how much you spend. If you are a beginner then I recommend you to choose a lower budget like Rs.345, you can always choose your own budget (minimum Rs.40).

• Add your credit or debit card. I personally use ICICI Bank's Debit card and till now it is working perfectly and start your promotion on Facebook.

I hope Facebook ads and SEO will work best for you in terms of generate more sales.

I have tried to give you the best guide to start your own online business through Instamojo store. Hope you liked this post.

If you have any doubts, questions or queries regarding this topic then you can comment below. I will try to solve your problem. I worked day and night to write this post, do share this article with your friends. Also read Instamojo blog for more updates.