Airtel Set Top Box Replacement Charges: What is the charge of Airtel Set Top Box Replacement? The full price chart is depicted in the picture below. Do check out here –
Airtel Set Top Box Replacement Charges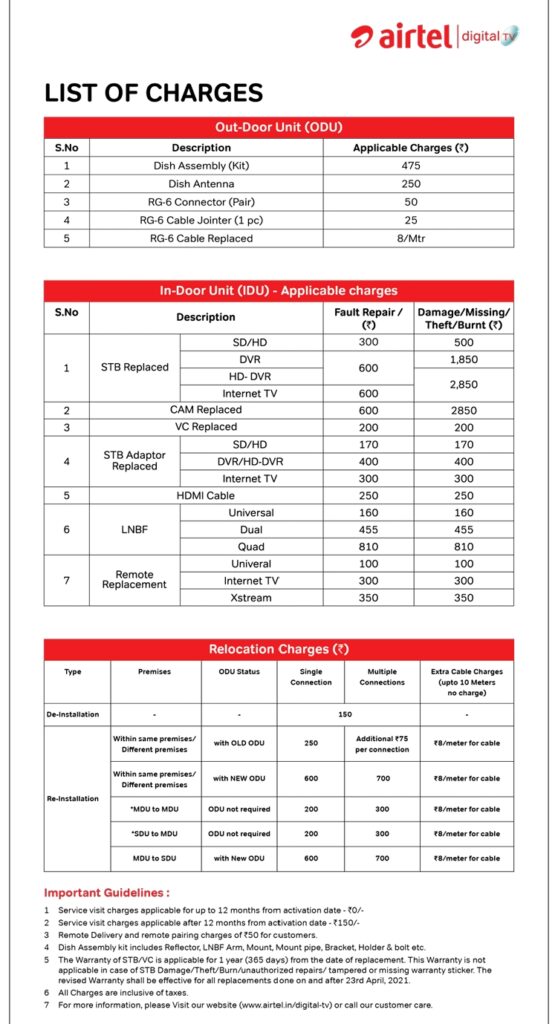 Airtel Set Top Box Replacement Charges
| | | |
| --- | --- | --- |
| Description | Fault Repair | Damage/Missing |
| | | |
| SD/HD | Rs.300 | Rs.500 |
| DVR | Rs.600 | Rs.1850 |
| HD-DVR | Rs.600 | Rs.1850 |
| INTERNET TV | Rs.600 | Rs.2850 |
Airtel Digital TV Features
500+ channels with a maximum of 500: Airtel Digital TV offers the most channels available in the market that cover a variety of genres to meet your entertainment requirements.
HD Picture Quality and Digital Sound: Enjoy every aspect in HD clarity of the picture and transform your TV experience completely. Enjoy your ears with a cinema-like sound.
Multi-Audio Feed: Thanks to Airtel Digital TV's Multi Audio feed feature, you are now able to enjoy your favorite channels in your personal language. Entertainment just as you want it.
Unlimited Recordings: Choose your own preferred time by plugging in any external media gadget (pen drive) to record and view anytime! Make use of your Event Based Recording feature to record your favorite shows or Time Based Recording to set an exact time for the recording feature to begin.
Active Services: Transform your TV into an ultimate entertainment experience with Airtel Digital Tv active services –
Universal Remote and HD Media Player Set Top Box- Through Universal Remote you are able to control your TV and Set Top Box with Single Remote Additionally, you can save any show to Pen Drive.